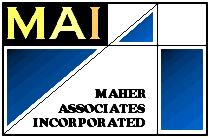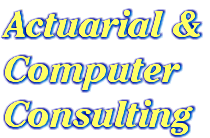 ---
ACTUARIAL SERVICES
Maher Associates, Inc. provides casualty actuarial services to insurance companies and reinsurers in most lines of business including medical malpractice, workers compensation, general liability, pollution and environmental coverages, automobile liability and physical damage, and products liability.
At MAI, we have effectively combined actuarial services and data processing into one operation, overcoming typical communication problems between these two important areas. This efficient service is possible because of our state-of-the-art computer resources and our extensive experience with the manipulation of computerized insurance claim and policy information. We frequently process insurance company databases into a variety of formats suitable for actuarial analysis. Because of this data processing efficiency, we can concentrate on the actuarial problem at hand, rather than laborious communications with data processing departments over our data compilation requirements.
Our actuarial services include:
Loss Reserving. Our reserve adequacy testing includes the Actuarial Statement of Opinion required by the NAIC.
Rate Reviews and Filings. We will review your rates and pricing structures and prepare necessary filings with state insuranceagencies.
Risk Models. We can perform a custom simulation of your company's claim experience to determine the impact of changes in limits or deductible and determine probabilities associated with possible future outcomes.
Financial Statement Consultations. We will work with your auditors to integrate reserve recommendations into your company's financial statements.
Self-Insurance Funding Models. We develop funding recommendations based on your company's experience and industry sources.
Cashflow Models. Preparation of future financial statements based on varied current assumptions provides assistance in business planning.
Database Conversion translates third party files to our in-house file structures.
Data Analysis Services are also offered by MAI to all industries outside of the insurance environment that require the evaluation of their data through complex operations.
---
Want to know what an Actuary Does?
B. Anne Actuary - our cartoon claims rep who really wants to be an actuary - has learned a few things about the actuarial profession. You might learn a thing or two from her.
Copyright © 1996 - 2004 Maher Associates, Inc.
Site Last modified: July 18, 2004-AZ